Ancol Art Market in Padamangan District, North Jakarta
---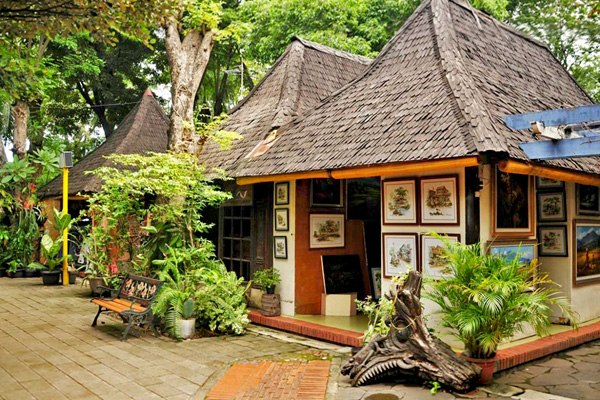 What is the next plan for a vacation? Jakarta Special Region offers many beautiful tourist spots for everyone. For example, there is Ancol Art Market. It is one of the best sites in Ancol Jakarta Bay City (Taman Impian Jaya Ancol), after all. What is in there? As the name suggests, it is the place to see many types of art performances and buy some works of arts. Once tourists get to the location, they can see many galleries, displaying different types of arts. These include statues, paintings, crafts, and much more. Not to mention they can find beautiful Batik and woven fabrics.
The Nuance
Ancol Art Market has the size of 5 hectares. That means it is big enough to accommodate tons of works of arts. In a nutshell, it is the location for creating, trading, and displaying arts! Not only local visitors, it even attracts tourists from other provinces. Most of the visitors are local artists and those who love arts, after all. There are about 70 artists working in the market! They even promote their works to the guests. When it comes to history, the place was inaugurated in 1975 by Ali Sadikin. Today, it becomes Jakarta's best tourist spots for both locals and outsiders.
Exploring Ancol Art Market
Many types of attractions are available, so tourists should enjoy them all. For example, they can witness the process of art creation. That means local artists would create a work of art on the site, witnessed by visitors. Their creativity is second to none, applying different schools like naturalism, abstract, etc. Apart from sightseeing, the guests are allowed to talk to the artists. It is even possible to perform an art exhibition with them. Here is another idea. Learning how to create a work of art also becomes an interesting activity in Ancol Art Market.
The next activity is to enjoy a special event called Night Art Market. Usually, it is conducted on Saturday night. This weekly event is a prime lure of Ancol Art Market, actually. It gives an opportunity to buy more attractive items and souvenirs. Plus, visitors are allowed to learn how to create a painting, ceramics, and other crafts. What's more? The event also offers musical performances like acoustic and traditional music. What a great way to spend a weekend with families and friends! It is both entertaining and educative.
Another fun activity is to eat local foods in available food stands. Some of the best options are ginger tea, Indonesian fries, putu cake, and ketoprak. Have no worries. The prices are affordable and the sellers are friendly. As for the tips, it is better to come to Ancol Art Market during special occasions or exhibitions. Therefore, tourists should learn about the schedules first.
Nearby Attractions
Outbondholic Ancol Adventure Park
Atlantis Water adventure
Dunia Fantasi
How to Get There
Being the part of Ancol Jakarta Bay City, the Art Market is quite reachable. People only need to head to Pademangan District. To be exact, the location is in East Lodan Street 7, North Jakarta. Many types of transportation services are available, in fact.
Where to Stay
Putri Duyung Ancol Hotel
Aston Marina Hotel
Mercure Convention Centre Ancol Hotel

Latest News
As the capital city of Indonesia, Jakarta is not only famous for its skyscrapers and the title as one of the largest metropolitan cities in the world. There are many other unique things that Jakarta has to offer, one of them is the creative typical product of Betawi—the native people of Jakarta. As is known, Betawi tribe who inhabit Jakarta as well as parts of West Java and Banten have unique cultural products. For example, lenong. However, as time goes by, the existence of lenong is increasingly displaced and it…
---
For Indonesians, the name of Kepulauan Seribu is already familiar. However, it is different from foreign tourists who rarely hear about the beauty of these islands. They do not think that there is a beautiful natural tourism that is not far from Jakarta. Want to know more details? When boarding the ship to Seribu islands, foreign tourists find it difficult to communicate with the ship's crew, because most of them do not speak English. This is because the crew in Kepulauan Seribu are mostly local people who do not speak…
---
Istiqlal Mosque is one of the halal tourist destinations in Indonesia. The construction process in a number of areas of the largest mosque in Southeast Asia has been completed and has made it ready as a place of worship, study, as well as tourism. The Istiqlal Mosque has become an icon of Indonesia. Many tourists and national heads who visited Indonesia then saw the beauty of the Istiqlal Mosque. If you enter to the mosque, with five floors and one ground floor, you will see the splendor of modern architecture…
---
Jakarta City always becomes the center of tourism, especially for foreigners who spend a vacation in Indonesia. It is the capital city of the nation, after all. That means Jakarta becomes a perfect checkpoint before visiting other regions. Aside from that, it also has tons of attractive vacation spots that offer different themes. For instance, there is the MACAN Museum in Kebon Jeruk Sub-District. Tourists only need to reach Perjuangan 5 Street in order to get to the museum. So, what is in there? Well, the official name is the…
---