Remarkable Bank Mandiri Museum in Jakarta Special Region
---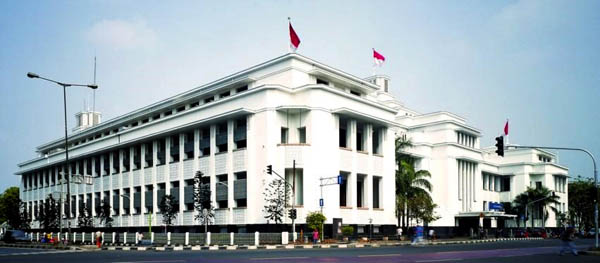 People have different preferences when it comes to a vacation in Jakarta Special Region. Some of them are into historical tourism, so they may visit museums and other similar places in Jakarta. As for reference, there is Bank Mandiri Museum, which is located in the Old Town area. It is one of the best museums to visit, after all. To be exact, the location is in Stasiun Street 1. It is in front of Beos Kota Train Station, so the museum is quite reachable either using a train or bus.
The Nuance
In terms of size, the museum is considered big, having the width of 21,509 m2. It has 4 floors, in fact. When it comes to design, Mandiri Museum applies Art Deco architecture. Not to mention it retains its original shape until now. Once tourists get to the museum, they can see majestic doors, windows, and floors that represent the Dutch's architecture. Due to high-quality maintenance, the environment is quite clean and the condition is good. Plus, the guests are able to see various "Brandkasts" that stores numerous valuable items like fine gold, money, documents, etc.
Exploring Bank Mandiri
Not only the museum has a majestic design, it also offers an interesting history to learn from. That means tourists come to Bank Mandiri Museum to learn a bit of its history, as well. Here is the fact. It was built in 1929 by three Dutch designers named Van de Linde, Bruijn, and Smits. The inauguration of the building was in 1933. At that time, the Dutch named it Nederlandsche Handel Maatschappij. After the independence of Indonesia, the building turned into Mandiri Bank in 1999. Today, it becomes a recommended museum to visit when spending a vacation in Jakarta.
So, what can guests see in the building? First, it is the base floor, where cashier and operational room reside. The room applies a Chinese interior design that comes with mannequins. Overall, it represents a vintage bank activity, which was dominated by the Chinese and Dutch. It is because Indonesian didn't get a good job opportunity in a bank. In the same room, the guests can see numerous items like ATM, stationaries, and other bank items. These objects are unique, as they come from different years. Not to mention they are worth a photo shoot.
In the upper floor, the guests can find a boardroom that comes with a clean and neat environment. Along the way to the room, tourists can enjoy beautiful glass mosaics, which are installed near to the stairs. Those represent 4 different seasons in Europe and a famous Dutch's helmsman named Cornelis de Houtman. Next, there is even a lift! The fact is that the building features two lifts with a distinct function. The one is used for carrying people and the other is used for items.
Nearby Attractions
Fatahillah Museum
Fine Arts and Ceramics Museum
Sunda Kelapa Port
Bahari Museum
Wayang Museum
How to Get There
The location is in Lapangan Stasiun Street 1, Jakarta. To be exact, it is located in front of Town Station of Jakarta. Many types of transportation services are available to reach Bank Mandiri Museum. These include a busway and a train.
Where to Stay
Millenium Hotel
De Rivier Hotel
Cordex Hotel
Jatra Hotel

Latest News
As the capital city of Indonesia, Jakarta is not only famous for its skyscrapers and the title as one of the largest metropolitan cities in the world. There are many other unique things that Jakarta has to offer, one of them is the creative typical product of Betawi—the native people of Jakarta. As is known, Betawi tribe who inhabit Jakarta as well as parts of West Java and Banten have unique cultural products. For example, lenong. However, as time goes by, the existence of lenong is increasingly displaced and it…
---
For Indonesians, the name of Kepulauan Seribu is already familiar. However, it is different from foreign tourists who rarely hear about the beauty of these islands. They do not think that there is a beautiful natural tourism that is not far from Jakarta. Want to know more details? When boarding the ship to Seribu islands, foreign tourists find it difficult to communicate with the ship's crew, because most of them do not speak English. This is because the crew in Kepulauan Seribu are mostly local people who do not speak…
---
Istiqlal Mosque is one of the halal tourist destinations in Indonesia. The construction process in a number of areas of the largest mosque in Southeast Asia has been completed and has made it ready as a place of worship, study, as well as tourism. The Istiqlal Mosque has become an icon of Indonesia. Many tourists and national heads who visited Indonesia then saw the beauty of the Istiqlal Mosque. If you enter to the mosque, with five floors and one ground floor, you will see the splendor of modern architecture…
---
Jakarta City always becomes the center of tourism, especially for foreigners who spend a vacation in Indonesia. It is the capital city of the nation, after all. That means Jakarta becomes a perfect checkpoint before visiting other regions. Aside from that, it also has tons of attractive vacation spots that offer different themes. For instance, there is the MACAN Museum in Kebon Jeruk Sub-District. Tourists only need to reach Perjuangan 5 Street in order to get to the museum. So, what is in there? Well, the official name is the…
---