A Fun Recreation Place in North Jakarta – Waterbom Water Park
---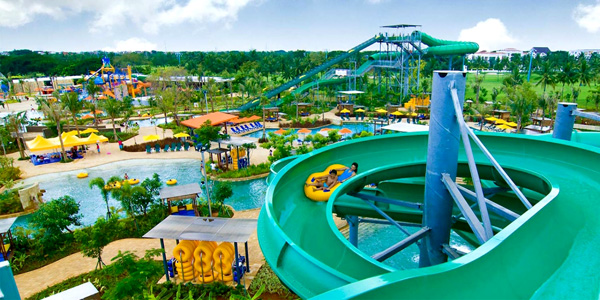 Families are always looking for new vacation destinations. That means they are into new experiences over time. In this case, there is a recommended recreational tourist spot in North Jakarta. The name is Waterbom. It is actually a water park and it is considered the biggest one in Jakarta Special Region. Many types of water rides are available, so visitors can try them all. Due to its fame and various attractions, more tourists are interested in playing there. Not to mention families want to introduce their kids to fun activities in such water park!
The Nuance
Both fun and serenity become the prime lures in Waterbom. What about the size? Well, it is enormous! The site features numerous types of water rides and facilities. In fact, some gazebos are available, on which the guests can relax. The thing is they must spend money to rent it. For those who love sports, they can play a table tennis! The next question is related to the safety of the water rides. Here is the fact. Those have undergone a tight inspection regularly. Not to mention they were made of high-quality materials.
Exploring Waterbom Water Park
Once tourists reach the water park, they need to undergo a regular inspection or checking. Next, they can reach the locker area and rent one space to store their items. Fortunately, kids would spend less money than adults. As for the tip, it is better to prepare a swimming suit beforehand. Getting wet is inevitable, so everyone should get prepared. Also, it is better to prepare some money, as they are needed for the parking fee, entry fee, and renting a locker. Not to mention the cash would be useful to buy some snacks and drinks later.
Now, it is time to try all water rides! As mentioned before, many options are available, but some of them are considered the most popular ones. For instance, it is Bomlazter, which is an open water slide that comes with tubes. Tourists can choose 3 levels of height, as well. The water slide also features a spill bucket. As the name suggests, it may spill water when get overloaded with it. What's next? According to regular customers, a water ride called Twisted Zone is also popular. It is also a water slide, but it is considered more challenging.
Many other water rides are available, actually. These include Extreme Zone, Pleasure Pool, Hairvin, Wave Beach, the Lagoon, and Wild River. All of them are worth trying, so visitors should never skip any of them. As for extra tips, it is better to come in working days, as the number of visitors is low. Next, it is related to the safety. Parents should supervise their kids well when trying any water rides. Even though there are lifeguards, parents must not be careless!
Nearby Attractions
Angke Mangrove Park
Angke Mosque
Fatahillah Museum
How to Get There
Waterbom Water Park is located in Pantai Indah Barat Street 1, Kamal Muara Rural Community. It belongs to North Jakarta Actually. From Soekarno-Hatta Airport, travelers can simply take a taxi and head to Pantai Indah Kapuk Area. The parking area is wide and it features a gold course. The water park is located near to it, after all. As for the ticket, it is considered affordable.
Where to Stay
Ozone Hotel
Nida Rooms Pantai Indah
Aston Cengkareng City Hotel
Augusta Hotel


Latest News
As the capital city of Indonesia, Jakarta is not only famous for its skyscrapers and the title as one of the largest metropolitan cities in the world. There are many other unique things that Jakarta has to offer, one of them is the creative typical product of Betawi—the native people of Jakarta. As is known, Betawi tribe who inhabit Jakarta as well as parts of West Java and Banten have unique cultural products. For example, lenong. However, as time goes by, the existence of lenong is increasingly displaced and it…
---
For Indonesians, the name of Kepulauan Seribu is already familiar. However, it is different from foreign tourists who rarely hear about the beauty of these islands. They do not think that there is a beautiful natural tourism that is not far from Jakarta. Want to know more details? When boarding the ship to Seribu islands, foreign tourists find it difficult to communicate with the ship's crew, because most of them do not speak English. This is because the crew in Kepulauan Seribu are mostly local people who do not speak…
---
Istiqlal Mosque is one of the halal tourist destinations in Indonesia. The construction process in a number of areas of the largest mosque in Southeast Asia has been completed and has made it ready as a place of worship, study, as well as tourism. The Istiqlal Mosque has become an icon of Indonesia. Many tourists and national heads who visited Indonesia then saw the beauty of the Istiqlal Mosque. If you enter to the mosque, with five floors and one ground floor, you will see the splendor of modern architecture…
---
Jakarta City always becomes the center of tourism, especially for foreigners who spend a vacation in Indonesia. It is the capital city of the nation, after all. That means Jakarta becomes a perfect checkpoint before visiting other regions. Aside from that, it also has tons of attractive vacation spots that offer different themes. For instance, there is the MACAN Museum in Kebon Jeruk Sub-District. Tourists only need to reach Perjuangan 5 Street in order to get to the museum. So, what is in there? Well, the official name is the…
---