Pluit Reservoir Park in Penjaringan Sub-district, North Jakarta
---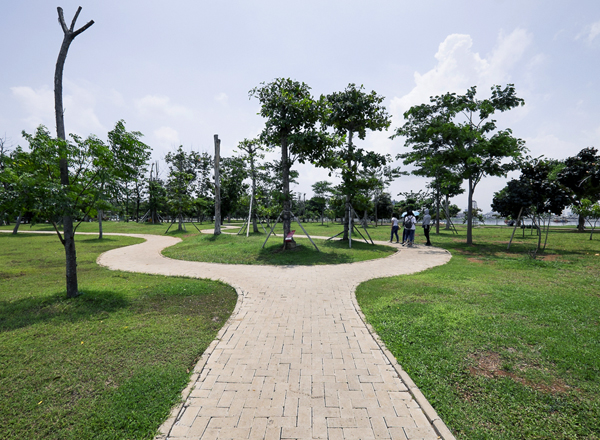 Just because Jakarta is a big city, doesn't mean it only has skyscrapers and shopping centers. It is because tourists can also find some gardens there. For example, it is Pluit Reservoir Garden, which is located in Penjaringan Sub-district. It belongs to North Jakarta, and the location is quite strategic. Visitors can easily spot the garden, as it is situated in the roadside. The question is what people would do in such location. Well, most of the visitors come with their families for enjoying a beautiful afternoon. Some people also come to the garden to do sports like jogging!
The Nuance
The size of the park is about 10 hectares. That means it is wide enough to do either relaxation or sports. Also, the atmosphere in Pluit Reservoir Garden is both comfortable and rejuvenating. Thanks to the presence of numerous plants and trees. Not to mention some parts of the garden are covered by grasses. Next, there are several park benches, on which tourists can relax. Not to mention some facilities are available, including toilets, theater, futsal field, jogging track, basketball field, and much more!  Plus, the location is near to the road and a water reservoir. What a great spot for relaxing!
Exploring Pluit Reservoir Park
The most popular activity to do in Pluit Reservoir Park is relaxation. Many citizens visit the park to eradicate their boredom and stresses. Apart from the locals, the site also attracts outsiders and foreigners! That means the park is considered popular among tourists. All the park's features are quite comforting. Visitors have the chance to enjoy nature, breezy wind, and beautiful scenery at the same time. This way, they would be able to eradicate stresses and burdens at once. Plus, the park is suitable to find inspiration, especially among local artists.
The park becomes a recommended location for a family recreation in North Jakarta. That means many families often come to the site for bonding. A family outing becomes a good idea, especially for those who live in North Jakarta. A busy life separates parents and kids, after all. This explains why a family bonding becomes an important need. It doesn't have to be sports. Parents can simply accompany their kids to explore the park and perform a small adventure there. On top of that, the cost is low. Some people even consider it as the cheapest recreation.
Pluit Reservoir Park also provides several amenities like a mini-trishaw service and food stands. Due to this reason, it is better to prepare some money prior to visiting the park. Another tip is the equipment. Visitors should not forget to carry a camera, as many beautiful objects are available. These include the water reservoir, which is worth a photo shoot. What's more? At night, the lamps emit a romantic atmosphere, so couples can take advantage of it for dating.
Nearby Attractions
Dufan
Sea World
Atlantis Water Adventure
Ancol Beach
How to Get There
As the name implies, the park is located in Pluit Timur Raya Street 12. Tourists can simply take any local transportation service to Penjaringan Sub-district and head to the location. As mentioned before, the park is situated in the roadside, so it is quite noticeable.
Where to Stay
Mercure Convention Hotel
Santika Hotel
Neo Hotel

Latest News
As the capital city of Indonesia, Jakarta is not only famous for its skyscrapers and the title as one of the largest metropolitan cities in the world. There are many other unique things that Jakarta has to offer, one of them is the creative typical product of Betawi—the native people of Jakarta. As is known, Betawi tribe who inhabit Jakarta as well as parts of West Java and Banten have unique cultural products. For example, lenong. However, as time goes by, the existence of lenong is increasingly displaced and it…
---
For Indonesians, the name of Kepulauan Seribu is already familiar. However, it is different from foreign tourists who rarely hear about the beauty of these islands. They do not think that there is a beautiful natural tourism that is not far from Jakarta. Want to know more details? When boarding the ship to Seribu islands, foreign tourists find it difficult to communicate with the ship's crew, because most of them do not speak English. This is because the crew in Kepulauan Seribu are mostly local people who do not speak…
---
Istiqlal Mosque is one of the halal tourist destinations in Indonesia. The construction process in a number of areas of the largest mosque in Southeast Asia has been completed and has made it ready as a place of worship, study, as well as tourism. The Istiqlal Mosque has become an icon of Indonesia. Many tourists and national heads who visited Indonesia then saw the beauty of the Istiqlal Mosque. If you enter to the mosque, with five floors and one ground floor, you will see the splendor of modern architecture…
---
Jakarta City always becomes the center of tourism, especially for foreigners who spend a vacation in Indonesia. It is the capital city of the nation, after all. That means Jakarta becomes a perfect checkpoint before visiting other regions. Aside from that, it also has tons of attractive vacation spots that offer different themes. For instance, there is the MACAN Museum in Kebon Jeruk Sub-District. Tourists only need to reach Perjuangan 5 Street in order to get to the museum. So, what is in there? Well, the official name is the…
---