Visiting Fatahillah Museum in Jakarta Special Region
---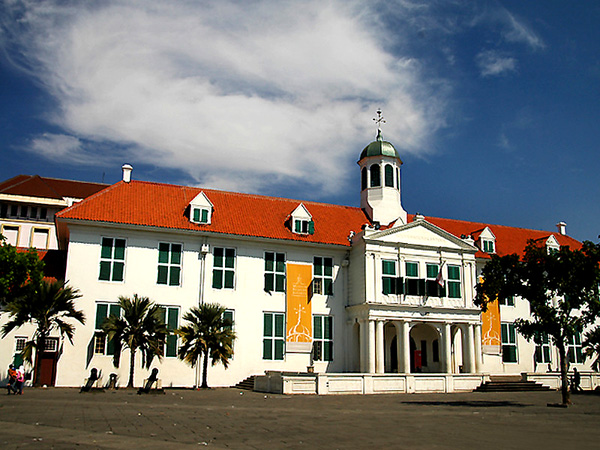 Apart from being the central government of Indonesia, Jakarta is a recommended vacation destination for travelers. Most of the time, tourists are interested in visiting such special region for its history and culture. It is because many historical buildings are scattered around the city, including Fatahillah Museum – a place to see the reminiscences of Jakarta across the eras. The location is in Taman Fatahillah 2 Street, West Jakarta. Not only tourists, some historians, and students are often seen there. That shows how popular the museum is among both locals and outsiders.
The Nuance
In terms of nuance, the museum emits the same aura of other famous historical buildings in the Old Town of Jakarta. It applies the Dutch's architecture, which is both majestic and vintage. The most noticeable feature is the unique cannon, called Si Jagur! The others are Hermes Statue, Diponegoro Figure, and Untung Suropati's Prison. Inside, people can find more than 20,000 historical items, including the originals and replicas. Some old paintings also become important attractions of the museum. Not to mention many old weapons, ceramics, and inscriptions are displayed well inside.
Exploring Fatahillah Museum
People come to Fatahillah Museum for different reasons. For example, they want to learn a bit history of it. According to either the locals or tour guides, the museum has undergone several reconstructions. At the first time, it functioned as a central government in West Java Province. Later, it altered into different functions like a logistic storage center, a military base, and lastly a historical museum of Jakarta. The inauguration was done by Ali Sadikin, actually. Today, it becomes public's favorite place when it comes to Jakarta historical tourism and keeps attracting visitors every single day.
The most common thing to do in the museum is to explore all parts of the building. Many displays are available to observe, after all. In fact, different types of historical items are stored there. For tourists, they have the chance to learn more about Jakarta and its history. For parents, the museum is a perfect destination to introduce historical items to the kids! That means Fatahillah becomes a recommended option when it comes to a family vacation. What's more? It is even possible to capture some pictures of those objects, as long as tourists have got the permission from the keepers.
Many historical collections are stored in different rooms. It depends on the era, from which the objects came. For example, there are Tarumanegara, Prehistoric, Jayakarta, MH Thamrin, Sultan Agung, and Fatahillah Room. With all those attractions, tourists should definitely visit all of the rooms! Here is a precaution. The museum is closed on Monday and holidays. For information, it opens from Tuesday to Sunday, starting from 9 am to 3 pm. Have no worries. The tickets are quite affordable.
Nearby Attractions
Fatahillah Museum
Wayang Museum
Sunda Kelapa Port
Bahari Museum
How to Get There
Located in Taman Fatahillah 1 Street, Pinangsia, Tamansari belong to West Jakarta City. Many methods are available to reach Fatahillah Museum. Usually, public transit access use Trans Jakarta, Kota Tua Jakarta, KAI Commuter Jabodetabek. Once they arrive at Jakarta Kota railway station, the next trip involves a KRL. It brings them to the museum directly.
Where to Stay
Millenium Hotel
De Rivier Hotel
Cordex Hotel
Jatra Hotel

Latest News
As the capital city of Indonesia, Jakarta is not only famous for its skyscrapers and the title as one of the largest metropolitan cities in the world. There are many other unique things that Jakarta has to offer, one of them is the creative typical product of Betawi—the native people of Jakarta. As is known, Betawi tribe who inhabit Jakarta as well as parts of West Java and Banten have unique cultural products. For example, lenong. However, as time goes by, the existence of lenong is increasingly displaced and it…
---
For Indonesians, the name of Kepulauan Seribu is already familiar. However, it is different from foreign tourists who rarely hear about the beauty of these islands. They do not think that there is a beautiful natural tourism that is not far from Jakarta. Want to know more details? When boarding the ship to Seribu islands, foreign tourists find it difficult to communicate with the ship's crew, because most of them do not speak English. This is because the crew in Kepulauan Seribu are mostly local people who do not speak…
---
Istiqlal Mosque is one of the halal tourist destinations in Indonesia. The construction process in a number of areas of the largest mosque in Southeast Asia has been completed and has made it ready as a place of worship, study, as well as tourism. The Istiqlal Mosque has become an icon of Indonesia. Many tourists and national heads who visited Indonesia then saw the beauty of the Istiqlal Mosque. If you enter to the mosque, with five floors and one ground floor, you will see the splendor of modern architecture…
---
Jakarta City always becomes the center of tourism, especially for foreigners who spend a vacation in Indonesia. It is the capital city of the nation, after all. That means Jakarta becomes a perfect checkpoint before visiting other regions. Aside from that, it also has tons of attractive vacation spots that offer different themes. For instance, there is the MACAN Museum in Kebon Jeruk Sub-District. Tourists only need to reach Perjuangan 5 Street in order to get to the museum. So, what is in there? Well, the official name is the…
---