A Quest in Glodok Chinatown in Jakarta Special Region
---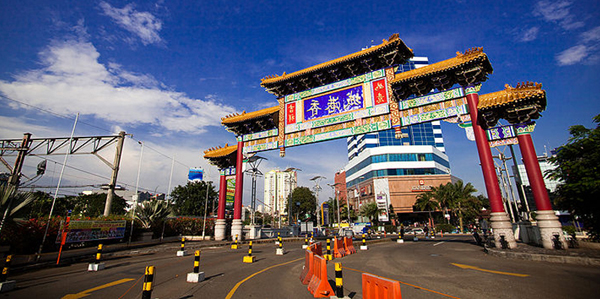 Just because Jakarta Special Region is a big city, doesn't mean it only has huge buildings. In Glodok, tourists can find a Chinatown! Not to mention it becomes a wonderful place for an adventure. The location is in Taman Sari District and it is considered a crowded site, especially among merchants. As the name implies, Glodok Chinatown features numerous Chinese cultures, buildings, and its people. Visitors even can learn a bit of the history of such area. The name derives from the sound of water "grojok-grojok", as there was a rest area for traders and their horses, drinking water on the site.
The Nuance
Glodok Chinatown is a crowded area with a narrow street. That means visitors would find many people in the area, including the locals and tourists. Still, it is a worthy area to explore, as many delicious foods and unique items are available there. One thing, Muslims need to ensure whether the foods are Halal or not. It is a no brainer. Most of the foods include pork oil and other Chinese-related ingredients. When it comes to the landmark, the most famous ones are Koan-Im Teng Vihara and Lay An Tong traditional medicine store.
Exploring Glodok Chinatown
Many interesting places are available in Glodok Chinatown, and tourists can visit them all. These include a vihara, historical buildings, medicine store, kanaal, old house, church, etc. Plus, the site is also famous for its foods. Many types of culinary are available there, so tourists can try them all. Next, there is Petak Sembilan Market, selling vegetables, fruits, meats, candies, cakes, etc. Their special product is swikee (frog meat)! This location becomes a prime destination for those who love shopping. The prices are cheap, as well. Due to this reason, visitors should carry some money when visiting the Chinatown.
The next attraction is Barongsai Dance. It is a traditional Chinese dance, performed beautifully by the locals. The dancers move from one store to the others along the way in Gloria Alley. Next, tourists should visit the oldest vihara in Jakarta, which is called Dharma Bakti. It is located in Kemenangan Street III and belongs to Glodok Chinatown area. In the past, the name was Koan-Im Teng and it was built in 1650 by Lieutenant Kwee Hoen. As the name suggests, the temple was built to worship Koan-Im Goddess.
The next noticeable vacation spot is Santa Maria de Fatima Church. The structure has a unique and beautiful architecture. Also, it offers an interesting history. According to the locals, the church was a home of a Chinese official. Today, it becomes a famous tourist spot in Glodok Chinatown with its Chinese inscription. Once tourists explore the church, they can continue their adventure by visiting Valnia Bakery, Lau Beijing snack store, Chinese calligraphy artists, and much more!
Nearby Attractions
Santa Maria Fatima Church
Koan-Im Teng Vihara
Toko Merah
De Groot Kanaal
How to Get There
Glodok Chinatown is located in Kemenangan Street III, Taman Sari District. Many routes are available for those who take a bus. Actually, it can be simpler if tourists take a taxi from either an airport or train station.
Where to Stay
Pancoran Jaya Hotel
Mustika Hotel
Antoni Hotel
Favehotel LTC


Latest News
As the capital city of Indonesia, Jakarta is not only famous for its skyscrapers and the title as one of the largest metropolitan cities in the world. There are many other unique things that Jakarta has to offer, one of them is the creative typical product of Betawi—the native people of Jakarta. As is known, Betawi tribe who inhabit Jakarta as well as parts of West Java and Banten have unique cultural products. For example, lenong. However, as time goes by, the existence of lenong is increasingly displaced and it…
---
For Indonesians, the name of Kepulauan Seribu is already familiar. However, it is different from foreign tourists who rarely hear about the beauty of these islands. They do not think that there is a beautiful natural tourism that is not far from Jakarta. Want to know more details? When boarding the ship to Seribu islands, foreign tourists find it difficult to communicate with the ship's crew, because most of them do not speak English. This is because the crew in Kepulauan Seribu are mostly local people who do not speak…
---
Istiqlal Mosque is one of the halal tourist destinations in Indonesia. The construction process in a number of areas of the largest mosque in Southeast Asia has been completed and has made it ready as a place of worship, study, as well as tourism. The Istiqlal Mosque has become an icon of Indonesia. Many tourists and national heads who visited Indonesia then saw the beauty of the Istiqlal Mosque. If you enter to the mosque, with five floors and one ground floor, you will see the splendor of modern architecture…
---
Jakarta City always becomes the center of tourism, especially for foreigners who spend a vacation in Indonesia. It is the capital city of the nation, after all. That means Jakarta becomes a perfect checkpoint before visiting other regions. Aside from that, it also has tons of attractive vacation spots that offer different themes. For instance, there is the MACAN Museum in Kebon Jeruk Sub-District. Tourists only need to reach Perjuangan 5 Street in order to get to the museum. So, what is in there? Well, the official name is the…
---