Hanging Out in Fatahillah Square, Jakarta Special Region
---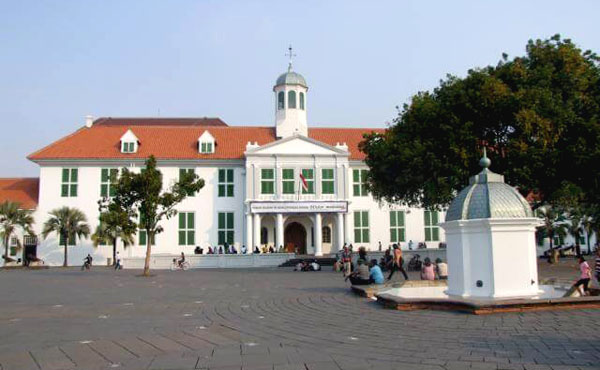 There is a recommended tourist spot in Jakarta, which is called Fatahillah Museum. Apart from displaying numerous historical items, it also becomes the place for gathering or hanging out. The best spot is Fatahillah Square. To be exact, the location is in Taman Fatahillah Street 1, Tamansari and it belongs to West Jakarta. Thanks to the strategic location, visitors can easily reach it. They come to the square to hang out or enjoy numerous attractions, done by local artists. Some others come to the location to learn a bit of its history.
The Nuance
The fact is that Fatahillah Square is the part of Jakarta History Museum. In the past, the name was Stadhuisplein. It becomes tourists' favorite spot to gather, especially for those visiting the old town. Another reason is because the square is situated near to various interesting buildings like Wayang Museum, Ceramics Museum, Post Office, etc. In terms of size, the square is considered big as it can accommodate lots of visitors. Not only tourists but some local artists are also seen in the location, especially in the afternoon.
Exploring Fatahillah Square
The first thing to do is to learn the history of the square. It is true Fatahillah Square is tourists' favorite spot to relax and hang out, but it has a gloomy history. In the past, lots of Chinese people are slain there. It was in 1740 when more than 10,000 people were killed within a week. The culprit was none other than the Dutch. They considered Chinese people got too close to the locals, which could be a significant threat to them. Due to fear of rebellion, the Dutch killed them mercilessly.
Despite the dark history, Fatahillah Square has turned into a beautiful place to hang out. As if, it replaces the despair with happiness and fun. Many types of fun activities can be done there, in fact. It is as simple as riding a bicycle and get around the square wholeheartedly. It doesn't even have to carry a bike to the square, as tourists can rent one. When it is about the best time to visit the square, it is in the afternoon. Why is that? Many people come at that time, so it is going to be merrier and more fun.
Once getting around using a bike, tourists should try some foods and drinks in nearby cafes. Have no worries. The prices are affordable. Next, they should watch several performances, which are done by local people. These include Lenong, Ondel-Ondel, and pantomime. All of them are stunning! Sometimes, some Akatsuki vampires are seen in the square. Instead of being scary, they appear cute and friendly. Most visitors even take selfies with them.
Nearby Attractions
Wayang Museum
Fatahillah Museum
Mandiri Bank Museum
Kota Intan Bridge
How to Get There
The fact is the square becomes the part of Fatahillah Museum. Due to this reason, tourists' prime destination is definitely the museum, which is located in the Old Town area. They can take a train to reach a train station near to the museum. As an alternative, they can take a KRL. Situated in Taman Fatahillah Street 1, Pinangsia, Tamansari, West Jakarta City.
Where to Stay
Ibis Budget Hotel
Zest Hotel
Big Hotel
Jayakarta Hotel

Latest News
As the capital city of Indonesia, Jakarta is not only famous for its skyscrapers and the title as one of the largest metropolitan cities in the world. There are many other unique things that Jakarta has to offer, one of them is the creative typical product of Betawi—the native people of Jakarta. As is known, Betawi tribe who inhabit Jakarta as well as parts of West Java and Banten have unique cultural products. For example, lenong. However, as time goes by, the existence of lenong is increasingly displaced and it…
---
For Indonesians, the name of Kepulauan Seribu is already familiar. However, it is different from foreign tourists who rarely hear about the beauty of these islands. They do not think that there is a beautiful natural tourism that is not far from Jakarta. Want to know more details? When boarding the ship to Seribu islands, foreign tourists find it difficult to communicate with the ship's crew, because most of them do not speak English. This is because the crew in Kepulauan Seribu are mostly local people who do not speak…
---
Istiqlal Mosque is one of the halal tourist destinations in Indonesia. The construction process in a number of areas of the largest mosque in Southeast Asia has been completed and has made it ready as a place of worship, study, as well as tourism. The Istiqlal Mosque has become an icon of Indonesia. Many tourists and national heads who visited Indonesia then saw the beauty of the Istiqlal Mosque. If you enter to the mosque, with five floors and one ground floor, you will see the splendor of modern architecture…
---
Jakarta City always becomes the center of tourism, especially for foreigners who spend a vacation in Indonesia. It is the capital city of the nation, after all. That means Jakarta becomes a perfect checkpoint before visiting other regions. Aside from that, it also has tons of attractive vacation spots that offer different themes. For instance, there is the MACAN Museum in Kebon Jeruk Sub-District. Tourists only need to reach Perjuangan 5 Street in order to get to the museum. So, what is in there? Well, the official name is the…
---