Gelora Bung Karno Stadium in Tanah Abang District, Central Jakarta
---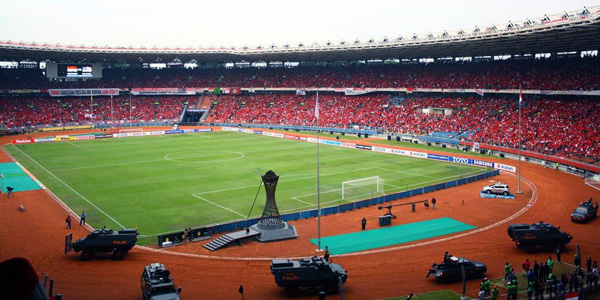 Jakarta Special Region should be proud of its GBK Stadium. To be exact, the full name is Gelora Bung Karno Stadium. It is known as a gigantic multi-purpose sports stadium, which resides in Central Jakarta. The name is inspired by the first president of Indonesia, which is Soekarno. Apart from being a sports stadium, it also becomes a tourist attraction in Jakarta. The fact is it also has an interesting history that tourists can learn. In the past, the name was Gelora Senayan Main Stadium. Also, there was a historical match, done in the stadium. It was the final of AFC Asian Cup in 2007.
The Nuance
In terms of size, the stadium is indeed big. It can accommodate more than 88,000 spectators, in fact. Decorated with 1,700 lamps, the landmark is considered majestic and beautiful. It is a no brainer. The main feature is the soccer field, which comes with the length of 110 meters and the width of 70 meters. The field has Zoysia Matrelia Linmer grass on it. There is also an athletic track with the length of 400 meters and 8 lanes. With all those features, GBK Stadium is acknowledged by both domestic and foreign tourists!
Exploring Gelora Bung Karno Stadium
Thanks to the location. Tourists are able to visit numerous stadiums in GBK Sports Complex. That means there are other places to visit, as well. These include the swimming and tennis stadium, which are worth an exploration. For tourists, the best time to visit the site is during important sports events! That means they need to inspect the schedule first prior to heading to the complex. Have no worries. A tour agent or local tour guide would give detailed information regarding the schedule. This way, travelers won't get disappointed when visiting the stadium later.
Apart from witnessing sports matches, some tourists come to GBK Stadium for learning its history. According to locals, the construction began in 1960 and it finished in 1962. Many people were impressed by such short-time construction. That means it only took 2 years in building a gigantic stadium. At that time, the government got a loan from the USSR. It was considered a big help, actually! Also, there is another important fact. The stadium was able to accommodate 120,800 people back then. However, the capacity decreased due to several renovations in 2007.
What's next? The government often conducts friendly matches there. It is likely they try to impress visitors with a stunning modern architecture of the stadium and excellent facilities like a public garden! As the result, the stadium obtains a better popularity both among local and foreign tourists. Not only it attracts sports lovers, but it also becomes a perfect site for photographers. No wonder, most of the visitors carry a camera when exploring the stadium. It is allowed, after all.
Nearby Attractions
National Monument
Istiqlal Mosque
Suropati Garden
National Museum
How to Get There
GBK Stadium is located in Pintu Satu Senayan Street and it belongs to Central Jakarta City. From Soekarno-Hatta Airport, travelers can take a taxi and head to the location. The best route is Jakarta Inner Ring Road and Sedyatmo Freeway. It takes about 25 minutes, as the distance is 26.3 km.
Where to Stay
Ibis Hotel
Pullman Hotel
Amaris Hotel

Latest News
As the capital city of Indonesia, Jakarta is not only famous for its skyscrapers and the title as one of the largest metropolitan cities in the world. There are many other unique things that Jakarta has to offer, one of them is the creative typical product of Betawi—the native people of Jakarta. As is known, Betawi tribe who inhabit Jakarta as well as parts of West Java and Banten have unique cultural products. For example, lenong. However, as time goes by, the existence of lenong is increasingly displaced and it…
---
For Indonesians, the name of Kepulauan Seribu is already familiar. However, it is different from foreign tourists who rarely hear about the beauty of these islands. They do not think that there is a beautiful natural tourism that is not far from Jakarta. Want to know more details? When boarding the ship to Seribu islands, foreign tourists find it difficult to communicate with the ship's crew, because most of them do not speak English. This is because the crew in Kepulauan Seribu are mostly local people who do not speak…
---
Istiqlal Mosque is one of the halal tourist destinations in Indonesia. The construction process in a number of areas of the largest mosque in Southeast Asia has been completed and has made it ready as a place of worship, study, as well as tourism. The Istiqlal Mosque has become an icon of Indonesia. Many tourists and national heads who visited Indonesia then saw the beauty of the Istiqlal Mosque. If you enter to the mosque, with five floors and one ground floor, you will see the splendor of modern architecture…
---
Jakarta City always becomes the center of tourism, especially for foreigners who spend a vacation in Indonesia. It is the capital city of the nation, after all. That means Jakarta becomes a perfect checkpoint before visiting other regions. Aside from that, it also has tons of attractive vacation spots that offer different themes. For instance, there is the MACAN Museum in Kebon Jeruk Sub-District. Tourists only need to reach Perjuangan 5 Street in order to get to the museum. So, what is in there? Well, the official name is the…
---