Dufan Theme Park in Pademangan District, North Jakarta
---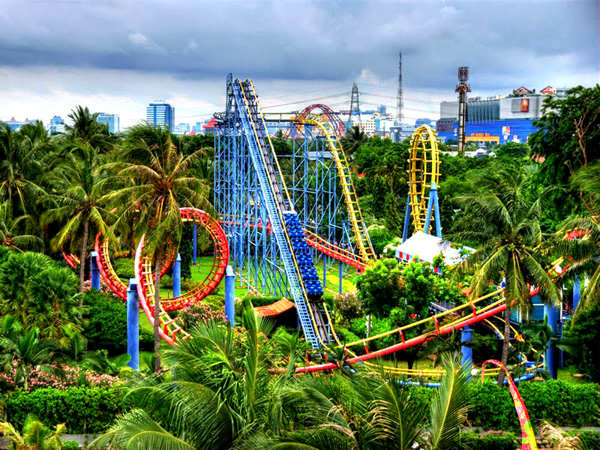 Kids deserve happy moments, so all parents must choose the right place for a family vacation. For those looking for a new experience, Dufan Theme Park can be a great option. It is located in the capital of Indonesia, which is none other than Jakarta Special Region. Apart from the locals, outsiders also have an interest in visiting such tourist spot. According to history, Dufan or "Dunia Fantasy" was inaugurated in 1985. Today, it becomes a recommended theme park for any tourists. Being located in Ancol complex, the theme park retains its popularity among people!
The Nuance
Like other theme parks, Dufan has many rides and fun sites. That means the guests can explore it wholeheartedly. Not to mention it comes with a serene nuance, as the theme park is surrounded by trees and plants. Even a beautiful garden is seen there. When it comes to tourism traffic, it is never dull, as many tourists always drop by. Actually, the most crowded times are during weekends and holidays, when families come with their kids for a recreation. That means the place emits a merry and a fun nuance! It's perfect for a family vacation, after all.
Exploring Dufan Theme Park
As mentioned earlier, many types of rides are available in Dufan. Though, some of them become tourists' favorite choices. These include Hysteria, Kora-kora, Halilintar, Bianglala, Tornado, and much more. Despite the price of the ticket, visitors would get unforgettable memories. That means it is worth the expense. Plus, they can try all rides and facilities, which are provided by the theme park. For those coming with kids, the theme park becomes a nice location for a family outing. Thus, they should not worry about the ticket fee.
Apart from trying all the rides in Dufan Theme Park, tourists can enjoy beautiful views of nature. Thanks to the strategic location. Tourists are able to relax and enjoy breathtaking views of Ancol Beach and cityscape of Jakarta. This explains why some tourists carry a camera when visiting Dufan. They want to capture beautiful moments and scenery there. Plus, they have an opportunity to build a beautiful experience with families. The theme park is suitable for bonding, either for families or couples. In this case, it is not recommended to come alone.
As for tips, tourists should come in working days, as the theme park has lesser visitors than weekends or holidays. Dufan opens at 10 am, so tourists should come in the morning. Next, it is about the rides. The fact is people have different preferences when it comes to choosing theme park rides. Some are into challenging experiences, while the others choose simple ones. Regardless of the choice, they must learn the instructions first prior to riding them.
Nearby Attractions
Fatahillah Museum
Seaworld
Taman Impian Jaya Ancol
How to Get There
Dufan Theme Park is located in East Lodan Street 7 and it belongs to Pademangan District. From Soekarno-Hatta International Airport, tourists come to Dufan by taxi. It takes about 40 minutes, as the distance is 24.2 km. Also, the best route to use is Prof. Sedyatmo Freeway.
Where to Stay
D'prima Hotel
Neo Mangga Dua Square
Holiday Inn Express

Latest News
As the capital city of Indonesia, Jakarta is not only famous for its skyscrapers and the title as one of the largest metropolitan cities in the world. There are many other unique things that Jakarta has to offer, one of them is the creative typical product of Betawi—the native people of Jakarta. As is known, Betawi tribe who inhabit Jakarta as well as parts of West Java and Banten have unique cultural products. For example, lenong. However, as time goes by, the existence of lenong is increasingly displaced and it…
---
For Indonesians, the name of Kepulauan Seribu is already familiar. However, it is different from foreign tourists who rarely hear about the beauty of these islands. They do not think that there is a beautiful natural tourism that is not far from Jakarta. Want to know more details? When boarding the ship to Seribu islands, foreign tourists find it difficult to communicate with the ship's crew, because most of them do not speak English. This is because the crew in Kepulauan Seribu are mostly local people who do not speak…
---
Istiqlal Mosque is one of the halal tourist destinations in Indonesia. The construction process in a number of areas of the largest mosque in Southeast Asia has been completed and has made it ready as a place of worship, study, as well as tourism. The Istiqlal Mosque has become an icon of Indonesia. Many tourists and national heads who visited Indonesia then saw the beauty of the Istiqlal Mosque. If you enter to the mosque, with five floors and one ground floor, you will see the splendor of modern architecture…
---
Jakarta City always becomes the center of tourism, especially for foreigners who spend a vacation in Indonesia. It is the capital city of the nation, after all. That means Jakarta becomes a perfect checkpoint before visiting other regions. Aside from that, it also has tons of attractive vacation spots that offer different themes. For instance, there is the MACAN Museum in Kebon Jeruk Sub-District. Tourists only need to reach Perjuangan 5 Street in order to get to the museum. So, what is in there? Well, the official name is the…
---