Dermaga Cinta (The Pier of Love) in Ancol, Jakarta Special Region
---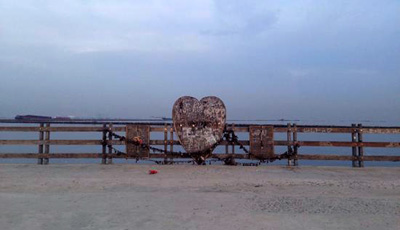 Couples always look for a new romantic place to enhance their relationship. In this case, visiting Dermaga Cinta becomes a recommended option. Also you can say the Pier of Love is located in Ancol Jakarta Bay City, Pademangan District. Due to its dreamy and beautiful atmosphere, many couples visit the place to spend quality time together. It is also because they are interested in attaching a padlock to the bridge, as the symbol of long-lasting love. It is similar to that of Seoul Tower and Paris. That means tourists don't need to go abroad to have such experience.
The Nuance
The pier looks majestic, as it features numerous facilities. The bridge becomes its primary attraction, actually. From the location, visitors can see thousands of padlocks, which are attached to the fence. Those belong to tourists and couples, after all. Apart from such phenomenon, the site also features breathtaking nature views and rejuvenating air. No wonder, it becomes a great place to eradicate stresses and photography. The nuance becomes better as the night comes, as the city emits radiant lamps and more people come to the site. As an alternative, tourists should come at dusk, when the sun sets beautifully.
Exploring Dermaga Cinta 
It is a no brainer. The most popular activity in the pier of love is to attach a padlock on the fence of the bridge. Due to its durability, the bridge can withstand bad weather and it is likely the padlocks would remain for years, as well. Thus, couples consider those items as the representation of their love. The thing is no padlocks can prevent corrosion. This explains why many of them are not in a good condition. In terms of number, there have been more than a thousand of them already. Isn't it amazing?
Dermaga Cinta is also crowded during Valentine's Day when many couples celebrate their relationship. They come wearing a couple t-shirt and spend a good time there. Not to mention they would carry a camera to take some pictures of those beautiful moments. Also, it is important to come at the right time. As for the tip, they should be there either in the afternoon or at night. The reason is the atmosphere is more romantic at those times. Not to mention the scenery appears more beautiful, as well.
People have different reasons for visiting Dermaga Cinta. Apart from attaching the padlock, they also want to enjoy the sunset. They are either tourists or photographers. What's next? It is true photography is quite popular there. However, some others would come to the pier to eat delicious foods in nearby cafes. It is because they can enjoy good foods and witness stunning scenery at the same time!
Nearby Attractions
Fatahillah Museum
Dufan Theme Park
Taman Impian Jaya Ancol
How to Get There
The fact is Dermaga Cinta belongs to Ancol Jakarta Bay City or Taman Impian Jaya Ancol. For those coming from another province, the prime destination is Soekarno-Hatta Airport. From there, they can take a taxi and head to East Lodan Street 7. The trip takes about 40-60 minutes to reach Pademangan District, after all.
Where to Stay
D'prima Hotel
Neo Mangga Dua Square
Holiday Inn Express

Latest News
As the capital city of Indonesia, Jakarta is not only famous for its skyscrapers and the title as one of the largest metropolitan cities in the world. There are many other unique things that Jakarta has to offer, one of them is the creative typical product of Betawi—the native people of Jakarta. As is known, Betawi tribe who inhabit Jakarta as well as parts of West Java and Banten have unique cultural products. For example, lenong. However, as time goes by, the existence of lenong is increasingly displaced and it…
---
For Indonesians, the name of Kepulauan Seribu is already familiar. However, it is different from foreign tourists who rarely hear about the beauty of these islands. They do not think that there is a beautiful natural tourism that is not far from Jakarta. Want to know more details? When boarding the ship to Seribu islands, foreign tourists find it difficult to communicate with the ship's crew, because most of them do not speak English. This is because the crew in Kepulauan Seribu are mostly local people who do not speak…
---
Istiqlal Mosque is one of the halal tourist destinations in Indonesia. The construction process in a number of areas of the largest mosque in Southeast Asia has been completed and has made it ready as a place of worship, study, as well as tourism. The Istiqlal Mosque has become an icon of Indonesia. Many tourists and national heads who visited Indonesia then saw the beauty of the Istiqlal Mosque. If you enter to the mosque, with five floors and one ground floor, you will see the splendor of modern architecture…
---
Jakarta City always becomes the center of tourism, especially for foreigners who spend a vacation in Indonesia. It is the capital city of the nation, after all. That means Jakarta becomes a perfect checkpoint before visiting other regions. Aside from that, it also has tons of attractive vacation spots that offer different themes. For instance, there is the MACAN Museum in Kebon Jeruk Sub-District. Tourists only need to reach Perjuangan 5 Street in order to get to the museum. So, what is in there? Well, the official name is the…
---