Textile Museum in West Jakarta, Jakarta Special Region
---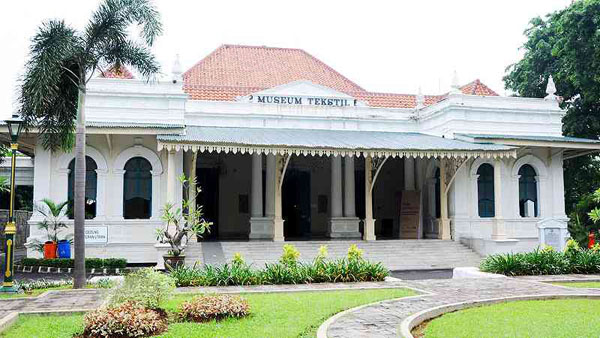 Tons of museums are available in Jakarta Special Region and all of them are worth a visit. One of the best options is Textile Museum, on which different types of traditional and Batik fabrics are stored. Once tourists get in the museum, they are able to explore those beauties with all of their distinct uniqueness. The location is in Tubun Petamburan Street 4, Tanah Abang Sub-District and it belongs to West Jakarta. At least, there are about 2,350 fabrics stored in the museum. These include 886 Batiks, 819 woven fabrics, and much more. There are even more than a hundred of modern textiles!
The Nuance
In a nutshell, the museum has the function to collect and display numerous works of textiles from all over regions in Indonesia. No wonder, visitors would be presented with various types of fabrics regardless of the colors, motives, and qualities. Some of the fabrics are displayed by hanging, while the others are stored in a glass. All of them are beautiful, indeed. The thing is people need to walk around the museum carefully, as space is a bit cramped. Fortunately, the museum is clean and neat, so it provides a comfortable environment to visitors.
Exploring Textile Museum
Many types of fabrics are available, so the guests would have unlimited options of attractions. Even they can find Lasem and Maduranese Sarong! Apart from witnessing numerous types of textiles and fabrics, some visitors are interested in the history of the building. In the past, it was a private house of French, built in the 19th century. Later, a Turkey's consulate bought it. Next, it was bought by a doctor named Karel Christian Curq in 1942. After the independence of Indonesia, it became a base of PFP in retaining the nation's independence. In the end, it became a museum of textiles in 1975, inaugurated by Ali Sadikin.
When it is about Textile Museum, the guests can find numerous facilities inside. For instance, there is Batik Gallery. As the name suggests, the room stores many collections of Batik fabrics, coming from different regions. These include traditional and modern Batik, actually. It is managed by both the museum and Indonesian Batik Society. In fact, the gallery also becomes an inspiration for Pekalongan's National Batik Museum! The next facility is the natural dye garden, where the guests can find some plants, which are used to colorize fabrics. The size of the garden is about 2000 meters in width.
Once visitors explore those facilities, they can also head to a library. It holds numerous books, related to textiles and fabrics. No wonder, more people are interested in learning about those topics. Thanks to the presence of the library. Not to mention there is a laboratory, which is the place to repair any damaged traditional fabrics. Another facility is the wastra room, where the guests can observe different types of woven machine and equipment from all regions.
Nearby Attractions
Wayang Museum
Fatahillah Museum
Mandiri Bank Museum
Kota Intan Bridge
How to Get There
The location is in K.S Tubun Street 4. That means travelers should head to Tanah Abang District, which resides in Central Jakarta. The thing is the museum closes on Monday and holidays, so tourists must come in Tuesday – Sunday.
Where to Stay
Ibis Budget Hotel
Zest Hotel
Big Hotel
Jayakarta Hotel

Latest News
As the capital city of Indonesia, Jakarta is not only famous for its skyscrapers and the title as one of the largest metropolitan cities in the world. There are many other unique things that Jakarta has to offer, one of them is the creative typical product of Betawi—the native people of Jakarta. As is known, Betawi tribe who inhabit Jakarta as well as parts of West Java and Banten have unique cultural products. For example, lenong. However, as time goes by, the existence of lenong is increasingly displaced and it…
---
For Indonesians, the name of Kepulauan Seribu is already familiar. However, it is different from foreign tourists who rarely hear about the beauty of these islands. They do not think that there is a beautiful natural tourism that is not far from Jakarta. Want to know more details? When boarding the ship to Seribu islands, foreign tourists find it difficult to communicate with the ship's crew, because most of them do not speak English. This is because the crew in Kepulauan Seribu are mostly local people who do not speak…
---
Istiqlal Mosque is one of the halal tourist destinations in Indonesia. The construction process in a number of areas of the largest mosque in Southeast Asia has been completed and has made it ready as a place of worship, study, as well as tourism. The Istiqlal Mosque has become an icon of Indonesia. Many tourists and national heads who visited Indonesia then saw the beauty of the Istiqlal Mosque. If you enter to the mosque, with five floors and one ground floor, you will see the splendor of modern architecture…
---
Jakarta City always becomes the center of tourism, especially for foreigners who spend a vacation in Indonesia. It is the capital city of the nation, after all. That means Jakarta becomes a perfect checkpoint before visiting other regions. Aside from that, it also has tons of attractive vacation spots that offer different themes. For instance, there is the MACAN Museum in Kebon Jeruk Sub-District. Tourists only need to reach Perjuangan 5 Street in order to get to the museum. So, what is in there? Well, the official name is the…
---