Holiday at Menteng Park in Central Jakarta City, Jakarta Special Region
---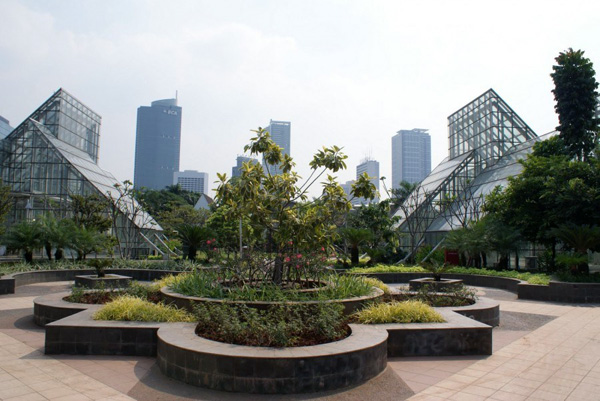 People who live in a big city like Jakarta should find an efficient way to cope with their stresses. One of the best ideas is to visit a nearby park. In Central Jakarta City, there is a recommended destination, which is called Menteng Park. The name derives from the location, actually. Like other parks, people can relax and enjoy shady trees there. It also becomes a suitable site for photography, jogging, sightseeing, and witnessing different types of plants. Some visitors also take advantage of the calm nuance of the park for dating, in fact.
The Nuance
In terms of size, it is approximately 30 hectares. Despite the regular size, the park offers lots of features to the guests. These include various species of plants, which are well-maintained. It is said about 30 species are available to observe. Not to mention some trees grow beautifully in different parts of the park, which create a shady and comfortable nuance. What's more? The park features other facilities like basketball field, futsal arena, and a fountain. In fact, there is a playground for kids! This explains why the park becomes popular among families, too. Another feature is the formation of infiltration wells. There are about 44 of them.
Exploring Menteng Park
The only thing that matters is the route. In order to reach the park, outsiders should spend much time and money. On the other hand, the locals won't get troubled in reaching the park. Also, it becomes quite crowded on weekends or holidays. Most of the visitors are families with kids, so tourists must choose the right time in visiting Menteng Park. It is also because the park becomes a famous spot for a recreation. The gusty wind and stunning scenery never disappoint visitors! Not to mention many types of facilities are available for them.
Enjoying good times in Menteng Park is a good idea. It is as simple as witnessing the fountain while supervising the kids. For those who love sports, the park provides a jogging track, as well. Moreover, there are futsal and basketball field. That means they can enjoy a group sports activity and make some new friends. Isn't it great? Even though tourists come at noon, the atmosphere remains comfortable. Thanks to the presence of trees and plants. Visitors won't get irritated due to the heat of the sun.
The management takes a good care of Menteng Park. No wonder, it looks clean and neat. Apart from that, the parking area is wide. It even has some level. That means it can accommodate many vehicles well. Also, some foreigners come to the location to do famous sports activities like parkour, BMX, and skateboarding! Usually, they come at night to enjoy such sports. The locals are also allowed to join them.
Nearby Attractions
Joang 45 Museum
National Monument
Suropati Park
Situ Lembang Park
How to Get There
It is easy to reach Menteng Park. From Soekarno-Hatta Airport, travelers can take a taxi to HOS Cokroaminoto Street, which is located in Menteng Sub-district. For the fastest route, they can take Jakarta Inner Ring Road. It takes about 30-40 minutes and the distance is 30.3 km.
Where to Stay
Amaris Hotel
Pullman Hotel
Ibis Hotel

Latest News
As the capital city of Indonesia, Jakarta is not only famous for its skyscrapers and the title as one of the largest metropolitan cities in the world. There are many other unique things that Jakarta has to offer, one of them is the creative typical product of Betawi—the native people of Jakarta. As is known, Betawi tribe who inhabit Jakarta as well as parts of West Java and Banten have unique cultural products. For example, lenong. However, as time goes by, the existence of lenong is increasingly displaced and it…
---
For Indonesians, the name of Kepulauan Seribu is already familiar. However, it is different from foreign tourists who rarely hear about the beauty of these islands. They do not think that there is a beautiful natural tourism that is not far from Jakarta. Want to know more details? When boarding the ship to Seribu islands, foreign tourists find it difficult to communicate with the ship's crew, because most of them do not speak English. This is because the crew in Kepulauan Seribu are mostly local people who do not speak…
---
Istiqlal Mosque is one of the halal tourist destinations in Indonesia. The construction process in a number of areas of the largest mosque in Southeast Asia has been completed and has made it ready as a place of worship, study, as well as tourism. The Istiqlal Mosque has become an icon of Indonesia. Many tourists and national heads who visited Indonesia then saw the beauty of the Istiqlal Mosque. If you enter to the mosque, with five floors and one ground floor, you will see the splendor of modern architecture…
---
Jakarta City always becomes the center of tourism, especially for foreigners who spend a vacation in Indonesia. It is the capital city of the nation, after all. That means Jakarta becomes a perfect checkpoint before visiting other regions. Aside from that, it also has tons of attractive vacation spots that offer different themes. For instance, there is the MACAN Museum in Kebon Jeruk Sub-District. Tourists only need to reach Perjuangan 5 Street in order to get to the museum. So, what is in there? Well, the official name is the…
---