A Famous Ismail Marzuki Park in Central Jakarta City
---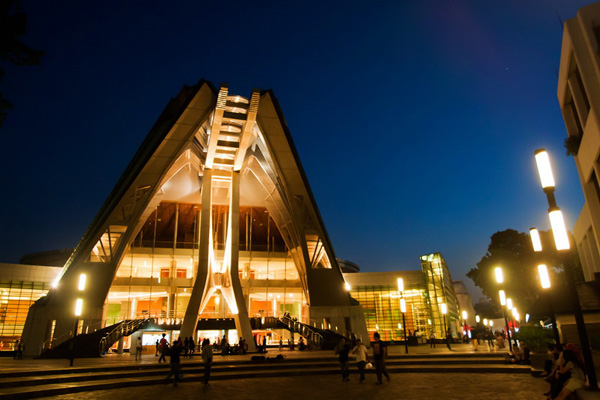 Jakarta Special Region offers many references of tourist spots. One of them is located in Central Jakarta, which is called Ismail Marzuki Park. The locals often call it TIM (Taman Ismail Marzuki). What makes it popular, actually? It is a place to witness both culture and arts. In the same area, tourists can also find a planetarium and Jakarta Arts Institute! Not to mention many types of cultural performances are often conducted there. These include paintings exhibition, shadow puppets shows, drama, dances, and much more. Moreover, both traditional and modern arts are available.
The Nuance
As mentioned earlier, Ismail Marzuki Park consists of several famous building. All of them offer stunning attractions to tourists, after all. Apart from those structures, there are also 6 modern theaters, an archive building, a gallery exhibitions hall, and a movie theater. With all those facilities, tourists are able to enjoy any performances passionately. Moreover, the park becomes quite romantic at night, as the lamps glow beautifully. This explains why some tourists prefer to come to the park in the evening. The thing is they should know the performances schedule prior to visiting the museum. Not all exhibitions or performances are done at night, after all.
Exploring Ismail Marzuki Park
According to history, TIM was inaugurated in 1968 by Ali Sadikin. At that time, the structure was built on a land of 9 hectares. Also, people called it Raden Saleh Park back then. It was a public recreational place, displaying numerous animals. In fact, it was a zoo! Later, the government moved the animals to the new place, called Ragunan. Apart from exotic animals, it also offered a unique race, done by dogs. The locals call it "Balap Anjing" and it became an extraordinary entertainment among tourists. Today, the park has a different function, which is to show arts and cultural performances.
The most famous part of the park is the room of expression. It becomes the place to display artists' works of arts and find some inspiration for the new creations. Apart from that room, the park has other facilities. For example, there is Graha Bhakti Budaya, which is a giant performance building. It can even accommodate 800 spectators! This structure is the main location to hold many performances like musical concerts, theatrical dramas, dances, films, and more! Not to mention there are Cipta II and III galleries, displaying many works of arts.
Next, visitors can reach a small theater. The place can only accommodate 200 people and it is used for musical performances, theater shows, seminar, and poetry readings. It is equipped with air conditioners, so the guests would feel comfortable while watching those shows. What's next? There are theaters and plazas. The biggest one is Jakarta Theater that can accommodate up to 1,200 people! Plus, it features modern facilities and equipment.
Nearby Attractions
Jakarta Planetarium
Jakarta Library
Joang 45 Museum
Suropati Park
How to Get There
To be exact, the location is in Cikini Raya Street 73. It belongs to Menteng Sub-district, Central Jakarta City, actually. From Soekarno-Hatta Airport, travelers can take any local transportation service and head to such address. The fastest route would be Pelabuhan Freeway, as it takes only 45 minutes. The distance between the airport and the park is 31.2 km.
Where to Stay
The Acacia Hotel
Ibis Budget Hotel
Mega Cikini Hotel
Double Tree Hotel

Latest News
As the capital city of Indonesia, Jakarta is not only famous for its skyscrapers and the title as one of the largest metropolitan cities in the world. There are many other unique things that Jakarta has to offer, one of them is the creative typical product of Betawi—the native people of Jakarta. As is known, Betawi tribe who inhabit Jakarta as well as parts of West Java and Banten have unique cultural products. For example, lenong. However, as time goes by, the existence of lenong is increasingly displaced and it…
---
For Indonesians, the name of Kepulauan Seribu is already familiar. However, it is different from foreign tourists who rarely hear about the beauty of these islands. They do not think that there is a beautiful natural tourism that is not far from Jakarta. Want to know more details? When boarding the ship to Seribu islands, foreign tourists find it difficult to communicate with the ship's crew, because most of them do not speak English. This is because the crew in Kepulauan Seribu are mostly local people who do not speak…
---
Istiqlal Mosque is one of the halal tourist destinations in Indonesia. The construction process in a number of areas of the largest mosque in Southeast Asia has been completed and has made it ready as a place of worship, study, as well as tourism. The Istiqlal Mosque has become an icon of Indonesia. Many tourists and national heads who visited Indonesia then saw the beauty of the Istiqlal Mosque. If you enter to the mosque, with five floors and one ground floor, you will see the splendor of modern architecture…
---
Jakarta City always becomes the center of tourism, especially for foreigners who spend a vacation in Indonesia. It is the capital city of the nation, after all. That means Jakarta becomes a perfect checkpoint before visiting other regions. Aside from that, it also has tons of attractive vacation spots that offer different themes. For instance, there is the MACAN Museum in Kebon Jeruk Sub-District. Tourists only need to reach Perjuangan 5 Street in order to get to the museum. So, what is in there? Well, the official name is the…
---